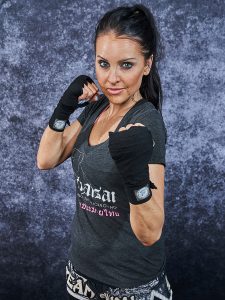 Alpha Martial Arts:

Seattle's Best MUAY THAI & FITNESS KICKBOXING!
Stay active, healthy and safe at home while learning martial arts with our Web Special:
---
2-Week Kickboxing & Muay Thai Trial Membership (only $47!):
Kickboxing: New students, ages 16 & up, can receive 2 weeks' of onsite or online classes. Your trial membership includes:
Onsite classes 1 or more days/week
Online classes taught live via Zoom at specific times during the day (up to 6 days/week)
On demand recordings of each class that can be accessed at your convenience. Class recordings are usually posted the next day and we keep 1 week of recordings available at all times.
Additional digital content to enhance your training.
---
"There's a large toning component to kickboxing because it forces you to engage all the muscle groups in your body. You'll also work your back and trim your waist because each move requires a lot of core power behind it." -Readers Digest Best Health-
---
FIRST: Check our class schedule and make sure you can attend at least one virtual class a week: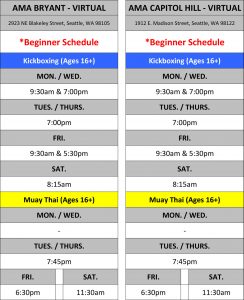 ---
""I am not athletic and I haven't worked out in years. However, the environment here is super supportive and yet they push you. It was great, I always left sweaty, happy and accomplished. I highly recommend it for those who want to get in shape and learn Muay Thai/Kickboxing." -Veanessa J.-
---
SECOND: Click the "Buy Now" button for the location that works best for you:
*If you have a discount code enter it before checkout.
---

2923 NE Blakeley Street
(1 block N. of University Village)
206-528-3737

1912 E Madison Street
(2 blocks E. of Trader Joes)
206-322-1433
---
Alpha Martial Arts has been serving our community with award winning programs for children, teens & adults since 2001. 

Anyone can begin martial arts – any age, any fitness level. 

Come join us! 
---
Please

let us know

if you have any questions or need help getting started. We are looking forward to working with you!
*If you do not have the zoom app installed, please visit zoom.us to download before joining your 1st class. 
---

---
There is a reason why Oprah, Dr Phil, Dr Laura Schlesinger, Jillian Michaels (Biggest Loser), Tony Robbins, pediatricians, child physiologists, and educators all agree that Martial Arts is one of the most valuable things you can involve your child in. Read more…
By Dave Kovar, Sacramento, CA
Find out what makes kickboxing such an amazing workout…
By Melissa Greer
"There are 3-4 different instructors teaching Kickboxing. I love that as they each bring something different to the table each workout so you never feel bored or like what you are doing is getting old. Also everyone is SUPER friendly and encouraging. Do not feel like because you have never done anything like this before or did not come with a friend you will feel left out or out of place. Everyone encourages everyone to try their best and push your limits, some of the most supportive people I have had the pleasure of meeting. I've already lost a half inch off each thigh in 2 weeks of going 4-5 times a week. I have been making a conscious effort also to eat healthy but nothing dramatic." -Stina K.-
"Great atmosphere, and great people! The Muay Thai instruction is the best I have experienced!" -Jerry M.-
1. Melt fat, fast
Combining martial arts techniques and heart-pumping cardio, kickboxing is a high-energy workout that is guaranteed to burn calories and fat.
"It's an incredibly efficient workout. Kickboxing alone burns about 750 calories in an hour," says Sammie Kennedy. "Add in jump rope and conditioning drills, and you could burn anywhere from 750 to 900 calories in an hour." The cardio-conditioning element of kickboxing is one of the most effective ways to burn fat—especially that stubborn belly fat that's associated with an increased risk of heart disease, diabetes and some types of cancer. A study published in the American Journal of Physiology found aerobic exercise to be better at reducing belly fat than resistance training, by burning an average of 67 percent more calories.
2. Tone your entire body
A typical class combines kickboxing drills with jump rope, circuit training and core strengthening exercises. "There's a large toning component to kickboxing because it forces you to engage all the muscle groups in your body," says Kennedy. By using kickboxing pads, as opposed to simply air boxing, you'll burn even more calories. "You'll also work your back and trim your waist because each move requires a lot of core power behind it," she says. Engaging your core will also ultimately improve co-ordination, while the constant movement in kickboxing improves flexibility and reflexes.
3. Learn valuable self-defense moves
While the majority of women are turning to kickboxing for the physical workout, the self-defense aspect is a perk for many people, says Kennedy. "We teach it with an emphasis on 'this is why you're learning this,' 'this is what you would use this for.' It's important for people to know why they're doing certain moves and engaging certain parts of their body," she says. Having the ability to protect yourself is a valuable asset and it's empowering to know that if you were in a dangerous situation, you have the knowledge to help get yourself out of it safely.
4. Take out stress and aggression
Sometimes the best way to release stress after a hard day at work is not a cold beer, but some intense physical activity. Kickboxing offers a healthy way to get out some of the day's frustrations out of your system, which will also help you get a better night's sleep and improve mental clarity. "It's an excellent release to be able to beat up your boss on the pads," says Kennedy. "Boxing also increases the release of endorphins, which can diminish with stress." The group atmosphere of kickboxing is even more effective in releasing endorphins. While any type of vigorous activity will release these feel-good chemicals, group exercise enhances their impact, according to researchers from the Institute of Cognitive and Evolutionary Anthropology in Oxford, England.
5. Feel sexy and confident
There's nothing sexier than being able to kick some butt, and look great doing it. The intensity of kickboxing means you'll see improvements and results quickly. Femme Fitale's sessions run for eight-weeks with twice weekly classes. "When you're putting yourself through a program that does really challenge you and you finish it—that alone boosts confidence dramatically because you've accomplished something and that's something to be proud of," says Kennedy.
c/o Readers Digest Best Health
"The Muay Thai Kickboxing class here is a genuine martial arts class. You will be expected to punch things – hard.  And kick them.  And elbow them.  If that sounds like your kind of thing, sign up! The instructors are enthusiastic and fierce, but encouraging.  I like 'em.  There's an underlying sense of discipline, perseverance, and a strong work ethic here – everything you'd expect from a good martial arts gym." -Ariel Z.-

"I was pleasantly surprised about how great of a work out I got, while having fun. I left feeling refreshed and "kick-ass" but also exhausted. This place is clean, the instructors are friendly and helpful (they actually walk around the whole room and corrects/encourages everyone), and the kickboxing moves are not that difficult for me being that I don't normally kick and punch things." -Sonia Y.-
---