Adults iLoveKickboxing.com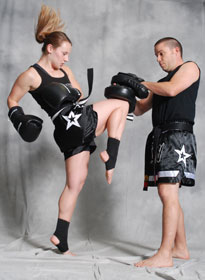 The Adults Muay Thai Kickboxing class at Alpha Martial Arts is designed for EVERYONE to participate and enjoy the benefits of traditional Muay Thai in a safe and effective manner. Whether you want to lose weight, gain confidence, become a champion competitor or just have fun, our instructors will help you achieve your goals in the shortest amount of time. Our environment is non-competitive, safe and challenging. Perfect for the adult seeking focus and a fit and healthy body. Students will develop their flexibility, conditioning and the 8 weapons of Muay Thai in the air, with partners and on pads every class. The art of Pad Training allows students to train at a pace and power level that would simulate an actual fight, without the high risk of injury. You don't have to be in shape to get started, but you have to start to get in shape!
Muay Thai is a traditional martial art with an ancient history. It was renowned in ancient times for its use by the Thai warriors in their efforts for the independence of Thailand. The art has been passed from generation to generation and is considered a vital part of Thai heritage. Master Tran has been trained and certified under Grandmaster Toddy, who is respected all over the world as an authority in the art of Muay Thai. We are affiliated with the Muay Thai International Association (MTIA) and Trans Muay Thai Association (TMTA).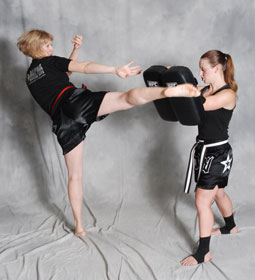 Our Style
Fitness: Do you want to get in the best shape of your life? Thai boxers are known as some of the best conditioned athletes in the world. Imagine how great you will feel when you lose all the weight you want, tone your muscle mass and have fun while doing it. Most gym programs fail but Muay Thai works because it is so much fun. It's the toughest work out you'll ever love.
Effective Self-Defense: Muay Thai is a great stand-up martial art. It is quickly and effectively teaches how to move your body with balance and power. Muay Thai has a no-nonsense approach to self-defense. All the techniques that we teach are practical for defending yourself. When you know how to defend yourself you will walk with confidence. When you walk with confidence people will know you are not a target.
Fun: Tired of running on the treadmill? Tired of the same old routine? Muay Thai is a blast! You'll get the fitness results that you've always wanted, surrounded by positive people in a healthy atmosphere. Our instructors are friendly, professional success coaches dedicated to helping you achieve your goals.
Fighting spirit: How would you like to have boundless confidence? Muay Thai generates mental focus and self-assurance that will enhance all areas of your life. Feel the inner strength, see the external results. Train with a fierce heart and spirit that only real Muay Thai can invoke. You will develop a "Never Quit" Fighting spirit!
+Add New