Karate is the best thing you can do for your child!
WHY KARATE INSTRUCTION WILL BENEFIT YOUR CHILD
At Alpha Martial Arts our age-appropriate programs for children ages 5-6 (Little Dragons) and ages 7-12 (Juniors Karate) are dual programs. We teach every student our integrated character development program with our internationally recognized martial arts curriculum as well! Your child will learn the skills they need to succeed in school and in life as they have fun blocking, kicking, and punching. In short, you can look forward to your child developing:
POWERFUL SELF CONTROL
IMPROVED FOCUS & LISTENING
FEARLESS SELF CONFIDENCE
HELP YOUR CHILD SET POSITIVE GOALS
Every student's long-term goal at Alpha Martial Arts is Black Belt – a symbol of excellence and an important tool for developing desire, perseverance and for teaching the importance of follow-through in any activity. From white belt to black belt your child will learn to set and achieve short, intermediate and long-term goals.
EMPOWER YOUR CHILD WITH CONFIDENCE
At Alpha Martial Arts children learn safety awareness, defensive strategies and non-violent conflict resolution skills. Awareness skills that will enable students to avoid potentially dangearous situations; verbal skills that will enable children and teens to "talk their way out" of a confrontational situation; and lastly, age appropriate self-defense techniques.
View Web SPECIAL for Kids & Adults KARATE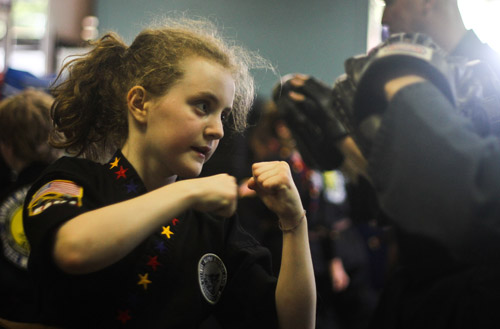 CHILDREN'S INTRODUCTORY COURSE
Learning martial arts is fun and provides lifelong benefits, but we know it can be a little intimidating to get started. We offer a short, no-obligation introductory course so that you & your child may have an opportunity to experience the value of our programs first hand.
During your introductory course you will experience our approach to teaching life skills through blocking, punching and kicking and we will have an opportunity to discuss your child's specific needs and to answer any and all questions that you may have about our programs. Your child will have fun, begin building a solid martial arts foundation and learn valuable life skills they can apply at school and at home. They will also have an opportunity to earn their white belt!
Please register online or call us at 206-528-3737 (AMA Bryant), 206-322-1433 (AMA Capitol Hill) or 206-519-6882 (AMA Ballard) to schedule a convenient time for your child's first lesson.
Our introductory course includes a semi-private lesson with one of our Black Belt instructors, an official AMA karate uniform and 2 weeks of age-appropriate group classes. Thank you for your time and interest. We look forward to meeting you and working with your child soon!