Alpha Martial Arts Student Resources
*Links are bold and blue! 
---
SAVE THE DATES:
M 11/20: Winter Quarter Begins
M 11/20: Treehouse Joy of Giving Holiday Drive Begins
W 11/22 – SU 11/26: Thanksgiving Break – No Karate Classes
W 11/29, TH 11/30 & SA 12/2: Buddy Days
SA 12/2: Winter Hyper Teams Begin
SA 12/9: Treehouse Joy of Giving Holiday Drive Ends
W 12/13, TH 12/14 & SA 12/16: December Tip Tests
F 12/15: December Pre-Test, Black Belt & Degree Exams (No Karate Classes)
M 12/18 – M 1/1: Winter Break (No Karate Classes)
TU 1/2: First Classes of 2024!
2023 AMA TESTING DATES:
Download a pdf of the 2023 AMA Testing Dates Calendar for reference and planning. **Test dates are subject to change and will be modified if necessary. Please confirm!
UNIFORM & T-SHIRT ORDERS:
BBT SPARRING GEAR ORDERS: 
---

Onsite Class Reservations:
Reservations are required for all classes! *Onsite students will be assigned a specific and consistent class day/time. Email us if you would like to attend onsite classes — Absolutely NO drop ins!
---
Private Lessons: 
All Karate Students are encouraged to schedule 1 more private lessons as needed for extra instruction/review.
Onsite private lessons (25 minutes) are $40/each.
---
Curriculum Review Videos: 
Monthly Tip & Quarterly Belt Testing Review Videos are available online. Please contact us if you do not have the current password.
---
Karate Tip, Belt & Chevron Testing: 
Not sure what Tip Testing is? Check out our

Tip Testing FAQ
Testing takes place at the end of every month. Please refer to the "Save the Dates" and/or Testing Calendar at the top of this page for specific dates.
Black Belt & Degree Testing is conducted on the Friday of Testing week. Please contact your head instructor for details and to schedule a pre-test and/or exam date.
Make Up Tests should be completed within 1-week of the missed test. *Time permitting we will be offering Make Up Tip Tests in classes the Monday, Tuesday and Saturday following test weeks. Please let an instructor know that you would like to complete a make up test at the beginning of class.
*Brown, Advanced Brown & Flipped Brown Belts must schedule a private lesson to make up missed tip tests!
---
Powerful Words Projects: 
Karate students are encouraged to complete their monthly Powerful Words Project to earn their stars! Please submit your projects before the end of the month by taking a picture or scanning your attendance card and returning it to your dojo's location by email (AMA Ravenna-Bryant, AMA Capitol Hill or AMA Ballard). *If you don't have the correct email address please use our 

contact us form

(you will not be able to attach your file, but we can reply with the correct email address).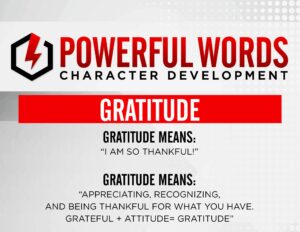 Click the appropriate link below to download a pdf and print your Powerful Project:  
---
Facebook Pages & Groups: 
Facebook Pages:

Alpha Martial Arts Facebook Page 

*This is the main page for our organization. Each location also has their own public page and private groups (see below). The main page currently includes:

Daily Book Readings w/ Ms. Zoe (she is currently reading Harry Potter!)
Wednesday Wisdom w/ Mr. Herrman

Facebook Groups: 

 *These are private groups for current and alumni students. Please visit the links below to request access.
---