Online RSVP System for Kickboxing Classes
KICKBOXERS! You must RSVP for class to reserve your spot!
It is quick, easy and mandatory! If you prefer, you may call us at 206-528-3737 to RSVP by phone or stop by the front desk to RSVP in person. *Please note: If you cannot attend a class that you have RSVP'd for you must cancel before the class begins or your account will be debited for the class.
Step 1: Go to AMA's Online RSVP Scheduler
*You can also access AMA's Online RSVP Scheduler by clicking the Student Resources button at the top right of the AlphaMartialArts.com website and selecting RSVP Kickboxing from the drop down menu.
You will see a screen that looks like this: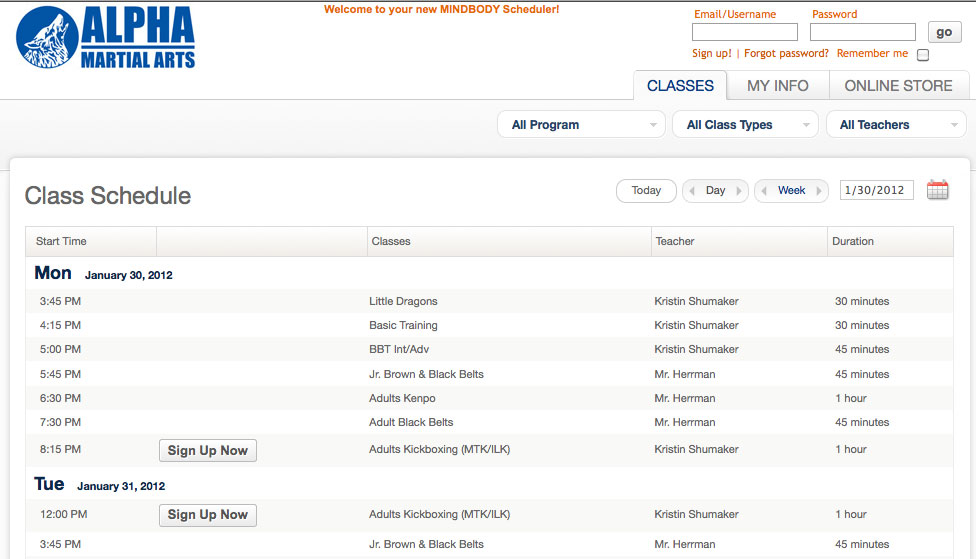 Step 2: Click the Sign Up Now button for the day/time you would like to attend class
You will see a screen that looks like this: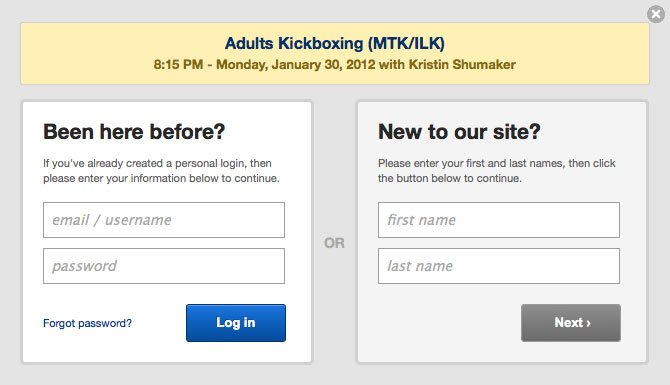 Step 3: Enter your Email / User Name and Password  in the Been Here Before? box on the left. *Following your 1st class at AMA we create your user name and password. You should also receive an email confirmation from Mindbody after your login is created.
Username: the email address you provided us on your release form
Password: kickbox1
*Change your password after you login the first time! Your password must be 8 characters and contain at least one number.
Step 4: Follow the on screen instructions to RSVP for class.
Step 5: Come to class and sweat, smile and learn 🙂
PS: Please email us feedback about this RSVP system!
PPS: You can modify the display on the RSVP Scheduler screen to display only Kickboxing Classes by clicking the All Class Types drop down in the upper right corner of the screen and selecting Adults Kickboxing. You will then see a screen that looks like this: