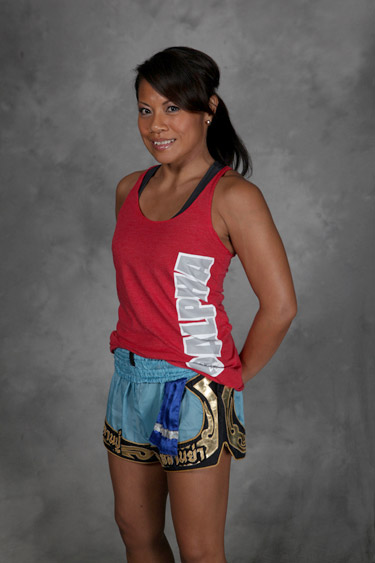 Current Title:  Alpha Kickboxing Instructor & Beginner Muay Thai Instructor
Training Since:  At AMA since 2011
Other Styles / Interests:  Boxing, barre3
(Professional/Personal) Achievements:  I stepped into AMA as a client for my first kickboxing class one day and I was nervous.  It was like experiencing a first day at a new school.  Then, I was 50 pounds heavier than I am now.  What were originally my "goals" for even doing this–the weight loss, muscle tone, fitness conditioning–have become the side effects.  Now, as an instructor, my clients' missions, whatever they may be, have become my personal mission and it's an achievement every day when I see them work and progress and love it!
  Certified Alpha Kickboxing Instructor
  High Chan Blue Sash, Chaisai Muay Thai
  Certified barre3 Instructor
  First Aid and CPR Certified
  Bachelor of Arts in Business from the University of Washington with concentrations in Management and in Marketing
Personal Statement:  As a student always feel passionate enough about what you're studying to crave to learn more, and then challenge yourself to teach it to others and pay it forward.  As a mentor, be passionate about what you teach; enough so that it's not a challenge to humble yourself to always keep learning it as a student.  The highest return on self-investment is when you can pride yourself in being both a student and a teacher.  We are all both students and teachers to each other.
Favorite Quote: "They call shots.  I call audibles." –Jay Z