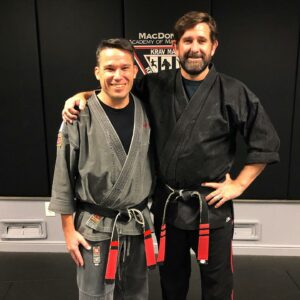 Current Rank:  6th Degree Black Belt in American Kenpo Karate
Training Since: 1991
Other Styles / Interests:
I began training in Karate as a student at Syracuse University in 1991 and began teaching for my first instructor, Mr. Phil Benedict, in 1994. At Syracuse University I had the pleasure of training in many different styles including: Wing Chun Kung Fu, Pekiti Tirsia Kali, American Kickboxing, Aikido, and Tai Chi (in addition to my base system of Kenpo). After graduating in 1995 I moved to Boston, MA and while continuing my study of Kenpo I was also able to train in Jeet Kune Do Grappling, Doce Pares Eskrima and Muay Thai.
I relocated to Seattle, WA in 2001 and founded Alpha Martial Arts. I love the martial arts, especially the life-long learning opportunities that they present and the friendships that I have developed through training. Outside of the martial arts I enjoy snowboarding, hiking, running, reading, traveling and spending time with my family, friends and my husky. I am also learning to play the ukulele 🙂
Professional Achievements:
Founder of Alpha Martial Arts
Owner & Master Instructor of Alpha Martial Arts Ravenna-Bryant
6th degree Black Belt Ed Parker's American Kenpo under Mr. Brian MacDonald
2nd grade Black Belt in Doce Pares Eskrima under Guro Jason Silverman
1st degree Black Belt in Kovar's Blend under Kyoshi Dave Kovar
Level 3 Instructor in the Trans Muay Thai Association under Master Hung Tran
Red Sash in Chaisai Muay Thai under Kru Alberto Ramirez
Brown Belt in Brazilian Jiu Jitsu under Mr. Brian Johnson
Bully Safe Kids Instructor under Mr. Bill Kipp
CrossFit Level 2 Trainer (CF-L2)
First Aid and CPR Certified
Black Belt Schools International Certified Instructor (2005, 2006, 2007, 2008)
Kovar Systems Certified Instructor (2010, 2011, 2012, 2013, 2014)
Member of ProMac (Professional Martial Arts College) (2006-Present)
Profiled in "The Journey Book 3, American Kenpo's Next Generations" by Tom Bleecker.
Personal Statement:  The original "Karate Kid" film sparked my passion for martial arts in 1984, but the flame wasn't lit until I was a freshman in college in 1991. It has burned bright ever since and I am honored to be able to share this passion with our students at Alpha Martial Arts and at seminars near and far.
Favorite Quote: "A black belt is just a white belt who never quit." –Unknown– (and) "For the strength of the Pack is the Wolf, and the strength of the Wolf is the Pack." –Rudyard Kipling–